PoC to production in 48 Man hrs be it OnPremise, Oncloud or SaaS
FinChat Solutions are available in various configurations depending on use cases. Small, midsize FSI or enterprise that do not want to invest on premise infrastructure can opt for SaaS or Private cloud.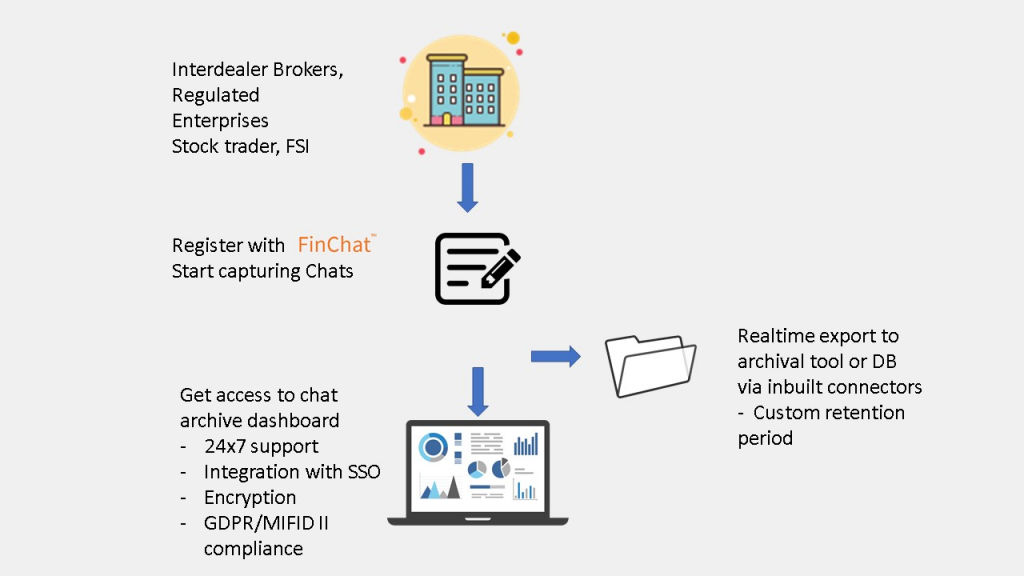 Stay subscribed stay compliant
A small subscription fee per employee per month enables traders, brokering houses, FSI or any regulated enterprises to interact with clients, on world's most popular messengers instantly. All interactions are archived and readily available for compliance function to audit, scan and record keeping.
Activate instant Messenger compliance legally for WhatsApp, WeChat, LineChat, Telegram, Viber instantly.
SaaS
SaaS is activated instantly. Chats are stored in your custom dashboard, with various user roles specifically designed for compliance function, employees & business development.
On premise
Banks, FSI or regulated enterprises which prefer on premise deployment can easily deploy our solution in there secure Enterprise Infrastructure. FinChat provides on site as well as remote assistance for on premise deployments globally.
On cloud
IMVault is readily deployed on your favorite private cloud for instance Azure, AWS, Google, Alibaba. Solution is secured by banking level security.
Connect to archival tools
Our solution can be readily connected to standard archiving tools like Enterprise Vault and others. We offer real-time exports of chats logs via APIs or intermittent export in custom schema & format.
Security
All data at rest or motion is encrypted using banks encryption keys using minimum 256 bit encryption key. Support for key rotation and standard safety measures available. All banking level security practices are in place.
Client Data Protection
No system logs expose client data.
All client data/chats stays with the enterprise. Data is controlled by restricted data access policies.
FinChat has no access to data/solution after deployment.
All data at rest or motion is encrypted by encryption keys owned by the enterprise (minimum 256 bit encryption key used).
All logs are encrypted.
Read only system to all data on the basis of roles.
Secure IM APIs.