COMPLIANT TELEGRAM RECORDING
Telegram recording, chat capture followed by archival and storage of official Telegram chats records for legal Telegram compliance; helps banks, traders, brokers, crypto exchanges or any regulated enterprise to comply with regulations of data retention. Click to Start Now!!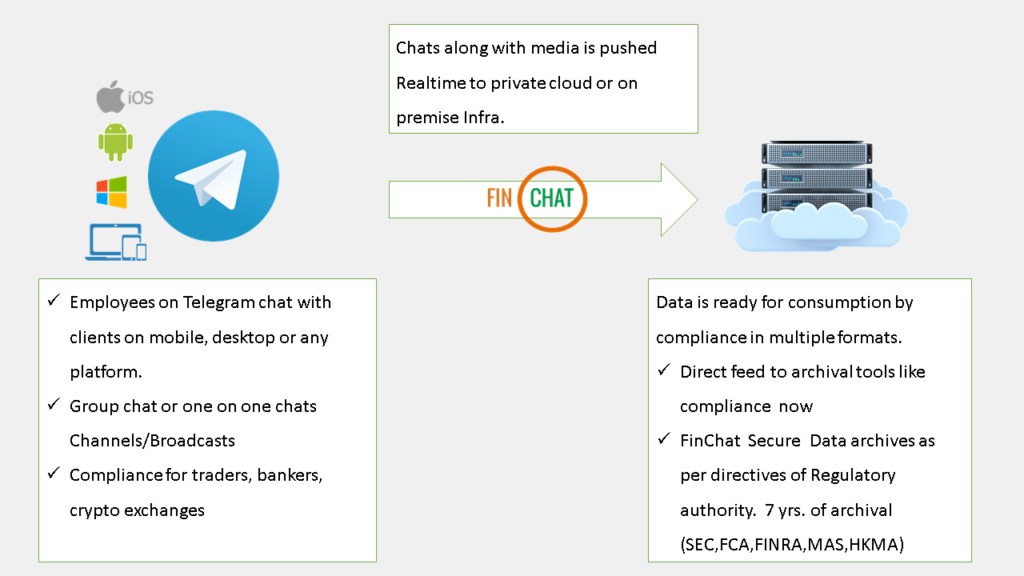 Complete Telegram Compliance
Trial to Production in matter of hrs
Real time export to archival tool or DB via inbuilt connectors
Custom retention period
Daily email, CSV dumps as per client schema
Compliant WORM storage, option to store chat hash in block-chain
Traverse chats using FinChat's compliance dashboard
Complete compliance management via secure compliance Dashboard.
Audit trail for compliance function
FINRA, SEC, MAS, HKMA compliant chat arc
Platform Agnostic works for iOS, Android , telegram web .. if you have telegram installed we will capture it for you!!
Detailed search and keywords alerts for compliance function
Customizable on-boarding workflows as per compliance & legal
Client Data Protection
No system logs expose client data
All client data/chats stays in private cloud/on-premise controlled by FSI/data owner access policies
No Access to data/solution or back link exists, once solution is deployed FinChat has no access
All data at rest or motion is encrypted using banks/FSI Encryption keys using minimum AES 256 encryption key.( FIPS 140-2 Level 3 compliant HSM available)
The Securities Exchange Act is a wide-reaching set of rules governing the financial services industry. In particular, SEC Rules 17-a3 and 17-a4 pertain to a firm's electronic messaging. These rules require firms to keep a proper record of electronic business communications.
FINRA issued Regulatory Notice 10-06 in January 2010, further clarifying these rules in the context of the rapidly evolving digital age.
This notice explained how the SEC's rules govern a firm's use of social media to communicate. It requires the retaining of records for a specific period of time, depending on their nature. It also outlines a firm's requirement to hold on to records of business-related communications.
FINRA Regulatory Notice 11-39 followed shortly after with further details. This allows for regulatory bodies to take a closer look at the business practices of financial service firms. It is their job to ensure compliance with these standards.
SEC Rule 17a-4(b) requires the retaining of business communications records made by broker-dealers. This information must be easily accessible and archived on WORM storage.